After the design team and dental fitout specialists completed their work on the site, our new dental practice was ready for the world to see. Balloons ready and bubbles in glasses, the guests arrived at 6pm and were impressed with the modern sleek interiors of the dental practice and even had a try of the comfortable dental chairs. The comments were that they were plush and luxurious.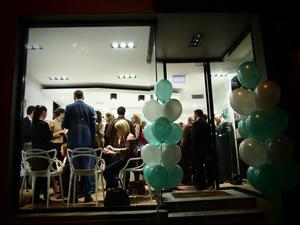 Our ceiling mounted TVs in the dental surgeries created a lot of interest as did the ability to select your own music. Of course you would want something to watch or listen to for those longer dental procedures. Our clinical team or dental receptionist will be only too happy to help in choosing something for you to watch or our wireless speaker system can help if you prefer to listen to music.
Food on the night was tasty treats provided by the fabulous caterers at Food Society, a Darlinghurst local restaurant giving Eastern European food a modern twist. The seared scallops were succulent and the lamb potstickers were a favourite of the gathering. Having dined at Food Society many times, we can certainly also recommend the Darlinghurst restaurant.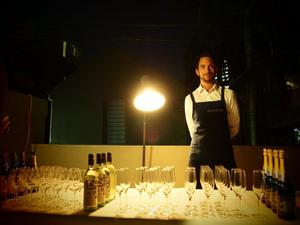 Live online dental bookings were available on the night via our iPad in reception. Many of our guests booked then and there for their next dentist appointment. You can too from Facebook or our website.
Thanks to Sue Jokinen for the wonderful practice artwork. You can find more great inks from Sue on her website and instagram feeds. We first noted Sue's artwork when it caught our eye at Paddington markets.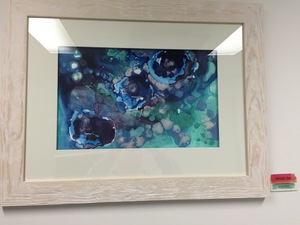 Electric Toothbrush Competition
Congratulations to Cormac for winning our grand dental prize on the night. He is now the proud owner of a Philips Sonicare Diamond Clean electric toothbrush. He chose the limited edition black, but we also stock the classic white electric brush and the electric pink version as well. They have a recommended retail price of $299.95 but are available for $250 when you like our page on Facebook. Come in today and see our full range of electric toothbrushes and oral health products for adults and kids.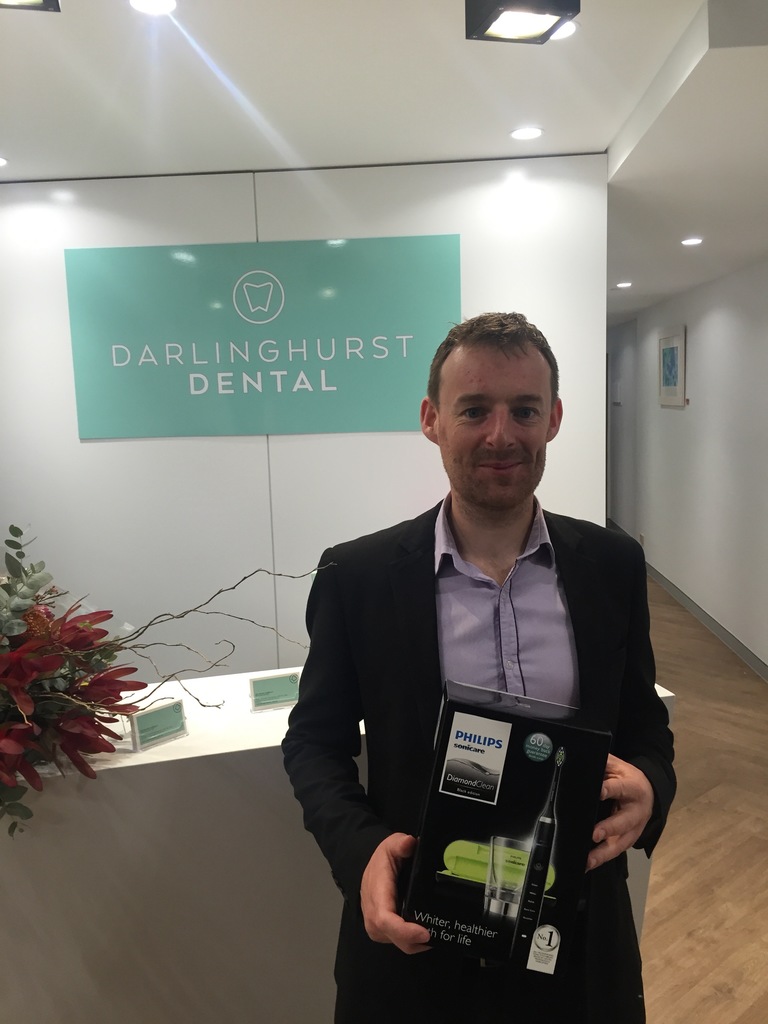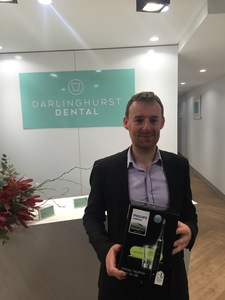 Now the party has concluded, all that remains is to stock the surgeries with dental materials and open the doors to our first dental patients. We look forward to seeing all those who were able to attend. For those who couldn't make it, why not drop in and have a look around our new dental practice for yourself. We are proud of our new state of the art dental surgery in Darlinghurst and we want to ensure you can Take Pride in Your Smile.
Unfortunately , the electrics for our reception sign was not ready for display on the night. The awesome crew at SignKiosk made a temporary sign for the party so as not to disappoint. The temporary sign was great and many complimented it without realising it was only temporary. We now have our great signage installed and the whole reception area is looking even better. Thanks to Smack Bang Designs for the great logo design.